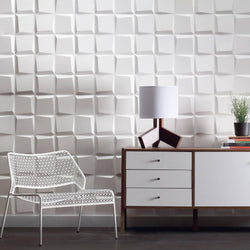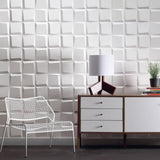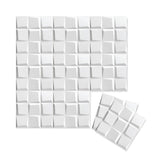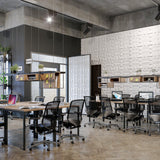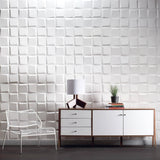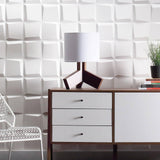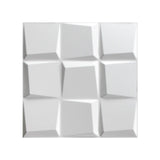 Paint Ready Cubit Wall Flats from Inhabit are lightweight 3D wall panels that work together through an automatic pattern repeat to create large-scale dimensional walls of any size and shape. Wall Flats work in multiples to create a continuous, uninterrupted dimensional sculptural wall. You can cover an existing wall with Wall Flats or disguise a wallpaper or paneled wall. These modern 3D wall tiles create a sculptural and continuous dimensional surface to any room setting through patterning.

Cubit Wall Flats create a modern geometric pattern on an accent wall or wall decor.
View More Wall Flat 3D Wall Panel Installations
Contents

The panels are sold by the box. Each contains 12 tiles and covers 32.3 sq ft

Dimensions

Each 3D Wall Panel is 19.7"x19.7" and are 3/4" deep (at the thickest point)

Material

Made from 100% Bagasse molded paper pulp with no chemical fillers, plastics, no VOC's, and no urea-formaldehyde.

Bagasse is a fibrous residue remaining after sugarcane stalks are crushed to extract their juice. This fibrous residue used as the raw material is pre-consumer waste. 

Timeframe

Ships within 1-3 business days

Fire Rating
ASTM E84 - Class B, Flame: 60 / Smoke: 135. If Class A is needed, a treatment option can be applied by Inhabit. Contact us for details/cost. Or Class A can be achieved by adding a Fire Retardant Paint Additive. Recommend Flamecheck M111PA from Flamecheck International.
Installation

How to Install 3D Wall Panels >>>

Technical
Product Specification Sheet >>>
Note: Sample tiles are full size usable tiles.
Wall Flat Calculator
I know the actual square foot I want to cover. Help me find the correct amount to order.
SqFt
I know the size of the area I want to cover. Calculate the sq. ft. that I need to order.
We have added 10% extra to cover for cuts.
Facet Wall Flats elevated my bedroom....
We just moved into our new home and had the builder install Inhabit Facet Wall Flats as an accent in our master bedroom. They elevated the look of our bedroom. We had the flats painted with white gloss paint so when the sun comes through the windows the wall shimmers/sparkles. I have gotten many compliments on it. The builder actually used our home as a model for 7 months. He had several client's request to have them installed into their new home as well. I will be looking at their wallpaper as soon as we get settled in.
It's great!
First let me say the customer service is par excellence! Placed my order one day and it shipped the very next day; two days later I had my order. The Facets Wall Flats are beautifully crafted. Haven't heard them put on the wall yet, but I'm excited about how the finished product will look. Inhabit gives you everything needed to be successful in adhering them to the wall. There is video you can view and well written instructions, plus describing the other items needed to for successful application.
The chrysalis 3D ready to paint wall flats are gorgeous! The product shipped quickly, packaging was great and customer service is very responsive. I would recommend this product and order from Inhabit again.
Split Wall Flats
Love the look of these flats. I installed them in my family room as an accent wall surrounding the fireplace. They were easy to install and look great. I only wish that they made this particular wall flat flame resistant. It took a lot of research and different products to make the flats surrounding the fireplace area beneath the mantle resistant to the heat and preventing them from lifting and cracking.
Great solution
After searching for a king sized headboard and not finding anything "unique", someone on Etsy gave me and idea. I used 4 panels to create a headboard. Nailed them directly to the wall and painted the nail heads white. Everyone thinks it looks great. Thank you for making my decorating idea come to fruition. Wish I could attach a picture.