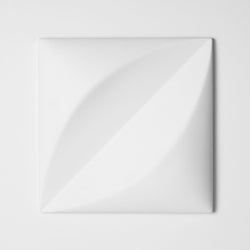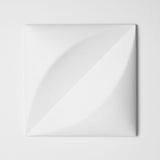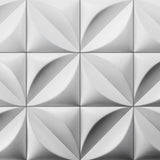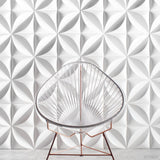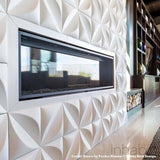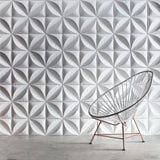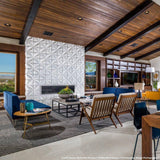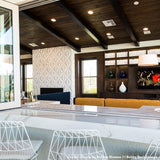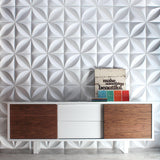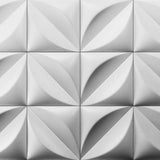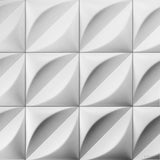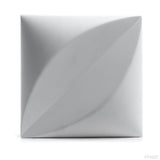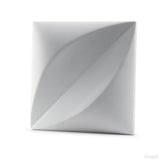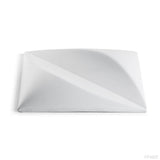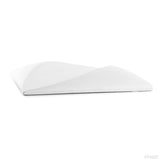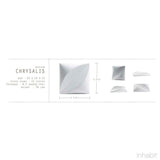 Chrysalis Cast Architectural Concrete Tile - White
Cast™ from Inhabit ® is a collection of nesting sculptural tiles cast from concrete. Cast reimagines concrete as flowing and gentle.
Symbolic of the protective environment caring for the caterpillar before it reemerges a beautiful butterfly the Chrysalis 3D concrete wall tiles are caught between hibernation and bloom. The carved-out pedal seems to ignite thoughts of Spring or rebirth and the shape can be positioned three different ways creating completely unique looks that work effortlessly together to create uninterrupted dimensional surfaces that are boundless.

Cast is the perfect choice for use around fireplaces, feature walls, and commercial spaces where durability is a priority.

Cast can be dry nested or grouted to accentuate or down-play the individual tile aesthetic.
Easily transform a boring wall into eye-catching wall art
Individual tiles that are easy to install and manage
Installs like standard tile
Made from non-combustible, low VOC,  recycled raw material
Recycled and biodegradable
Lightweight and Paintable 
Product Specifications:
Materials

Made from CSA Concrete. It is 2-6 times greener than OPC (Other Portland Cement) that has had a significant quantity of cement replaced with pozzolans, like fly ash and sag. This lightweight formulation results in a reduced product weight of approx. 30% per/sq ft. compared to similar volume Portland cement products.

Finish
Coverage
Cast is sold by the box. Each box contains 12 tiles & covers 7.92 sq ft., weight: 71 lbs.
Dimensions

Each tile is 9 3/4" x 9 3/4" x 1 5/8" thick / Coverage per tile is .66 sq ft.

Fire Rating
 

Class A, Flame Spread Index: 0, Smoke Developed Index: 5.

Installation 
View Installation Instructions >>>
Note: The maximum quantity of individual sample tiles that can be purchased is 1
.
Wish I. Could find someone to put my tiles on my wall
I loved the order experience! Very nice young lady was so helpful on the phone ! Then received my tiles on time. I can't wait to put them on the fireplace I know I love them!