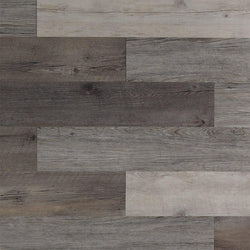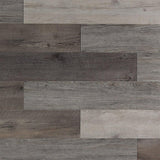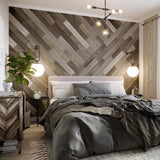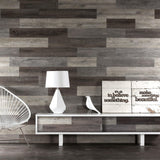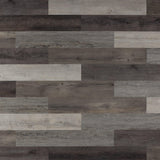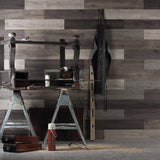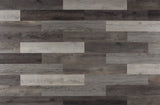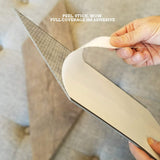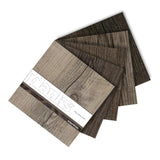 Scrap Wood Look Peel and Stick Wall Planks
Planks™, wood paneling from Inhabit®, are wide plank peel & stick wood look wall planks that add the warmth and texture of wood to any room. Available in an array of wood finishes, Planks install in just a few simple steps. Peel. Stick. Wow. With looks ranging from a pallet wall to a reclaimed wood wall and from weathered wood to a mid-century modern walnut finish, Planks are sure to hit on a design-aesthetic that works in your space. Planks feature realistic color, grain and texture combined with excellent performance, durability and cleanability.

Combining a medley of wood tones, Scrap Wood Planks capture that much sought-after salvaged wood wall look by mixing in detailed graining, realistic knotholes, and a rough-sawn face. Scrap Wood Planks uses modern technology to recreate what nature does best, while leaving the undesirable shrinking, splitting, checking, bug infestations, hazardous chemical treatments and splinters behind.
Easy to cut and install /// Good adhesion to most surfaces /// Scratch resistant /// Excellent humidity and water resistance /// Class A Fire Rating
Note: This product has been updated to a fire retardant version and will not match exactly to product purchased prior to October 2018. 
Product Specifications:
Size
Each plank is 36" x 6"
Coverage
 Each plank covers 1.5 sq ft
Sold By
Per Square Foot or 6"x6" Sample Pieces (if medley there is one of each color)
Materials

2 mm (0.120 in.) solid vinyl with polyurethane protective coating. Contains recycled material

. Full coverage 3M Acrylic Scrim Reinforced PSA Adhesive. 

Timeframe
Product will ship within 1-7 business days. Contact us if in need of a rush order.
Fire Rating
Class A (ASTM E 84), Flamespread Index: 10, Smoke Developed Index: 450
Safety

-Certified Low Emitting Product
-Indoor Air Quality Certified, meets California Specification 1350
- 100% Recyclable
-No Added urea-Formaldehyde Resins
-Bacteria Resistant - non-porous surface that does not allow moisture to penetrate or to be absorbed. Permits the use of germicides to remove surface bacteria.

LEED Credits

-

By installing Planks a specifier could earn LEED point in the following categories:
-Indoor Environmental Quality Credit 4,1 (low emitting materials)
-Material and Resources Credit 4.2 (no added urea-Formaldehyde resins)
Technical
Product Specification Sheet >>>
Installation 
View Our Installation Instructions >>>
Samples
If ordering a medley pattern you will receive a 6"x6" sample of each color in the medley. If ordering a single color tone pattern you will receive one 6"x6" sample of the color.
Note: We encourage you to purchase samples prior to ordering.
Plank Calculator
I know the actual square foot I want to cover. Help me find the correct amount to order.
SqFt
I know the size of the area I want to cover. Calculate the sq. ft. that I need to order.
We have added 5% extra to cover for cuts.
Used this product as a accent wall. It was easy and looks good.
Awesome chevron wall
Great product, easy install.
Highly recommend!
Indoor Headboard, Outdoor Trim
I used these to create a faux headboard in a guest headroom and loved them so much, I ordered them again to trim out a covered area under a deck to finish an outdoor living room...
Awesome product!
Adds a wow!
Our accent wall looks great and it was so easy to install.
One glitch was one piece did not have adhesive on it so, fortunately we ordered just enough extra to finish without it.
Wood wall planks
Super easy to use and looks great! Highly recommend!